A Probable History of the Golden Family
of Newberry, South Carolina Since 1761
Updated 2022.04.12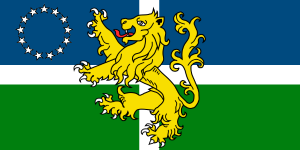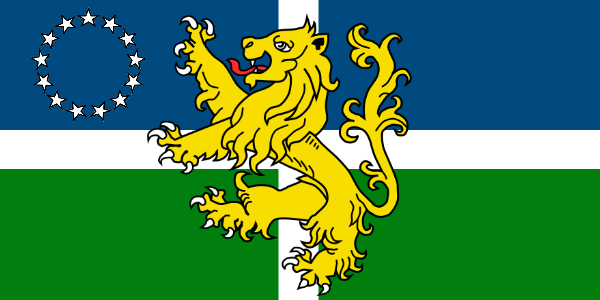 German Goldmans show as DNA matches with some branches of our larger Golden family.
Some of these Goldmans have become Gouldman. This can get confusing when going through DNA match results.
None of these German Goldmans are related in genealogies, just in DNA matches.
I list all of these matches in my Ancestry tree to keep them easily referenced.
These German Goldmans appear to connect via Carolina and Virginia intermarriages with descendants of the Starns/Starnes/Stearns families.
DNA matches with these German Goldmans  will usually lead to:
Friederich 'Frederick' Starhing 'Starnes'
(1700–1779)
married to Mary Goldman (1703–1742)
daughter of
Johann Conrad Goldman
(1653–1711)
Anna Ursula Ritz
(1673–1748)
++++++++++
The Scoggins Connection?
How we DNA-connect to Goldmans and Starnes could possibly be explained via a Scoggins connection.
One branch of our Goldens with descent from Isaac Golden and Ruth Sheehan do have a family member that married into the Scoggins: xxxx and xxxxx.
~~~ The 18xx marriage would not explain why Scoggins DNA is widely present across parallel branches of Golden siblings from the late 1700s.
THEORY:  Multiple branches  of our Goldens could carry DNA from these German Goldmans by way of the Starnes/Stearnes and Scoggins/Scroggins families.
~~~ Not sure yet how we DNA-connect with these Starnes and Scoggins families. Have collected many different DNA test matches indicating:
~~~~~~ Goldman and Starnes: 30 DNA test matches indicate a 5-8th cousin relationship.
~~~~~~ Scoggins: xx DNA test matches indicate a 4-6th cousin relationship. [1]Am refinding them. Ancestry.com introduced TAGS in 2021. Most matches were not tagged because I have been tracking Scoggins for some years now. Goldman and Starnes are something that I started … Continue reading
>> If you do a search of your DNA matches for either 'Goldman' or 'Starnes' then you should find matches with these families at the time they lived in the Mecklenburg County, NC area at time just prior to and during the American Revolution.
Found them while searching for a better definition of our Scoggins DNA connection. We/I/You should match with these families even outside of the Scoggins intermarriage … some modern matches will spell their name as Stearnes.
>> I searched the DNA of various branches of our pre-NGG line (Isaac, Abraham, and our NGG line): this exact Goldman, Starnes, Scoggins line of DNA matches appears in all.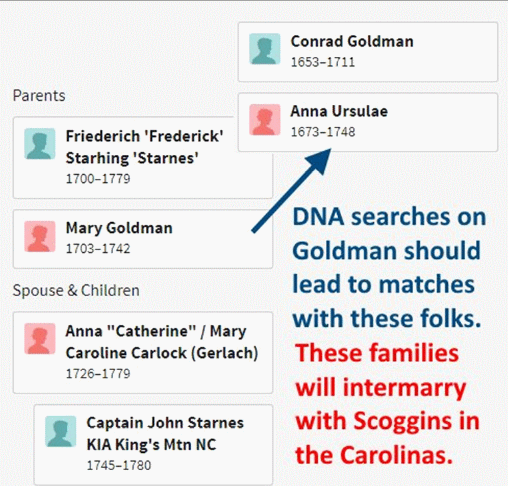 ++++++++++
Benjamin Scroggins (1780/1794 TN – 1847 IL) married to Margaret Starnes (1789 TN – 1873/75 IL)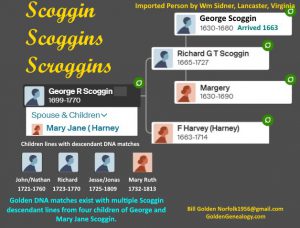 ++++++++++
©2022 William Golden, Norfolk1956@gmail.com // Material may be shared without requesting permission and with appropriate attribution: A Probable History of the Golden Family of Newberry, South Carolina Since 1761, by William Golden ©2022