Golding / Golden / Goulding et al Family History on Facebook
---
Updated 2014.05.25
Enid Dorothy Golding Whiting  (1923-2014)
Grandaughter of Charles Thomas Golding, first generation immigrant from England; born 19 May 1867 in Birmingham, Warwickshire, England; death 26 Oct 1955 in Pocatello, Bannock, Idaho, USA. Charles Thomas Golding married Josephine M. Droubay, 1866-1952. There were nine Golding children: Leo Charles, Hortense E., Homer Paul (father of Enid Dorothy Golding), Emily D., Josephine, Gladys, Cartina, Phyllis N., and Margaret.
+++++++++++++++++
About B-26s and WASPs
B-26s were produced between February 1941 and March 1945. There were just 1,074 female pilots of the WASP, Womens Air Service Pilots (WASP), each freeing a male pilot for combat service and duties. They flew over 60 million miles in every type of military aircraft. The WASP were granted veteran status in 1977, and given the Congressional Gold Medal in 2009. Some 25,000 women applied to join the WASP, but only 1,830 were accepted and took the oath. Only 1,074 of them passed the training and joined. Image source of B-26 Marauder: DDay-Overlord.com.
---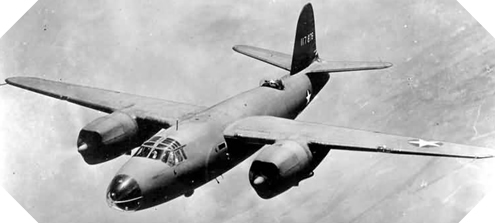 TREMONTON, Utah, USA – Enid Dorothy Whiting, 90, passed away peacefully on February 11, 2014 with family by her side. She was born November 24, 1923 in Pocatello, ID to Winifred Welker and Homer Paul Golding. She has lived in Pocatello, ID, Weiser, ID and most recently in Tremonton, UT.
Enid graduated from high school and then attained a masters degree in nutrition. She married Stanford Benson Whiting in Rathdrum, ID on Oct. 28, 1943, their marriage was later solemnized in the LDS Temple on Oct 14, 1955. Together they had four sons and four daughters. Stanford passed away in 1999.
She was a loving wife, mother and foster parent. Enid owned and operated a clothing store and a health store in Weiser, ID. She was a member of the LDS Church; where she served as an organist, Relief Society President and Temple worker. She and Stanford served a mission in Jacksonville, FL and a temple mission in Boise, ID. Enid received the 25 year scouting award for her service as a scout leader. She was a pilot with the WASP, Womens Air Service Pilots, (Civil Air Patrol) where she flew B-26 Marauder planes between military installations throughout the western United States.
Enid is survived by four sons and three daughters; Charles Richard Whiting (Cathy), James Stanford Whiting (Darla), Robert Paul Whiting (Janelle), Ronald Chris Golding Whiting (Lorraine), Cynthia L. Roper (Connard), Shari Lynn Whiting (Kevin), Anna Marie Murphy (Bryan); 27 grandchildren, 44 great-grandchildren and one great-great-grandchild; a brother, Charles Golding (Margarita); and a sister, Doreen Burroughs. She was preceded in death by her husband Stanford and a daughter Bonnie Marie Olp.
Services for Enid will be held Saturday, February 15, 2014 at 11 a.m. at the Corinne LDS Chapel (2335 N. 4000 W. Corinne, UT) with a viewing from 9:30 – 10:30 a.m., prior to the service. There will also be a graveside service on Monday, February 17 at 11 a.m. at the Hillcrest Cemetery in Weiser, Idaho with a viewing from 10 – 10:30 a.m. held in the Weiser Stake Center (300 East Main – Weiser, ID).
The family would like to extend a special thanks to everyone at the Bear River Care Center for the wonderful care they gave Enid.
Online Condolences and memories may be shared at: www.ruddfuneralhome.com
Obit Source: Standard-Examiner ePaper, 14 Feb 2014.
---
You are welcome to add to or to correct this story by contacting: Bill Golden, Norfolk1956@gmail.com
BTW – I look forward to sharing your stories, photos and in-search-of quests. Contact me at the email address above.