Golding / Golden / Goulding et al Family History on Facebook
---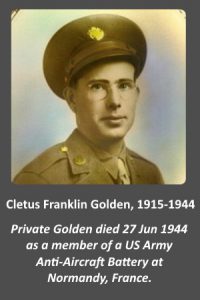 Cletus Franklin Golden possibly descends from the line of William Golding (1704-1782), Richard Golding (1744-1788), and Reuben Golding (1783-1850).
The father of James Oliver Golden (1817-1902) was said to be Reuben Golden, born in 1783 at the Ninety-Six District, South Carolina. This would be appropriate timing and place to be a Golding descendent were there not several Reuben Golding/Goldens of this time period.
NOTE: a YDNA test of a related male Golden would resolve this lineage as we have a solid DNA fingerprint for the William Golding (1704-1782) line.
James Oliver Golden had  a son named William Reuben Golden (1859-1942), and William Henry "Hinker" Golden (1880-1973) from whom Cletus Franklin Golden descends.
Cletus is the younger brother of William Leftridge Golden and his wife Dollie Alene Culligan, whose genealogy somehow got badly mangled in the 1990s. Their birthdates were somehow changed so that William Leftridge was born circa 1596 and he was listed as coming from Lincolnshire, England. Many family genealogies today still show William Leftridge Golding and Dolly Alene of the 16th century as the originator of their family line. Read more about this.
++++++++++
Obituary of Private Cletus Franklin Golden, August 1944
Private C.F. Golden, Sheridan Youth Killed
Mrs. Cletis Franklin Golden, Sheridan, has been notified by the War Department that her husband, Private Golden, was killed in France June 27. Private Golden, 28, son of Mr. and Mrs. William H. Golden, Kingsland Ark., had been in service since Nov. 17, 1942, and had been overseas for eight months. Before enlisting he was employed by Warner's Aircraft Corp., Detroit, Mich.
Survivors include his widow, the former Miss Mary Mae Whitaker; his parents, four brothers, William, W.H., and O.D. Golden all of Pine Bluff, and J.C. Golden, Little Rock; three sisters, Mrs. Jack O'Bandy, Mrs. H. W. Thompson and Mrs. Ollie Belle Collins, Kingsland.
Memorial Services will be held in the Memorial Baptist Church, Sheridan, Sunday, August 6, at 3 p.m.
++++++++++
The following is from the Cleveland County Herald August 2, 1944:
"Pvt. Golden Loses Life Fighting With Army in Invasion War Department Reports Kingsland Soldier Killed In France On June 27
The War Department recently notified Mrs Mary M. Golden of Sheridan of the death of her husband, Pvt. Cletis F. Golden, 28, of Kingsland, who was killed in action on June 27. Pvt. Golden was among the first troops to leave England for the invasion of France.Pvt. Golden was in an antiaircraft outfit. He entered the service from Pulaski county on Nov. 17, 1942, and recieved his antiaircraft training at camps in California, Virginia, and New Jersey before leaving for England on Nov. 12, 1943. Pvt. Golden was born Oct. 23, 1915, at Kingsland, the son of Mr. and Mrs. W. H. Golden, who continue to reside there. He was educated in Kingsland Public School."
++++++++++
Not mentioned in the above, but related to me by a family member: Cletus supposedly died after stepping on a land mine in France.
---
You are welcome to add to or to correct this story by contacting: Bill Golden, Norfolk1956@gmail.com
BTW – I look forward to sharing your stories, photos and in-search-of quests. Contact me at the email address above.