A General History of the Thomas Gouldman Family
of Old Rappahannock County, Virginia
Updated 2023.05.29
Table of Contents

Introduction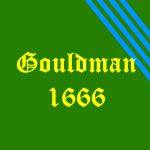 This document contains notes, thoughts, and compiled historical documentation on the Gouldman family of early Virginia and its origin. Have also extensively researched the Gouldmans of the United Kingdom.
Unlike some earlier genealogy histories of the Gouldman family, I believe that I have identified a specific Gouldman family as the ancestral line. No known genealogies written prior to 2022 have associated Virginia Gouldmans with UK Gouldmans.
Many of these notes originally appeared in my own family history prior to 2023. [1]A Probable History of the Golden Family of Newberry, South Carolina Since 1761, by Bill Golden. Virginia Gouldmans have a very detailed history prior to 1750 [2]Virginia Gouldman family history becomes discombobulated after the death of Winifred Claiborne (1714-after 1770), married to Francis Gouldman (c1695-1763). German Gouldmans, originally Goldmans, … Continue reading which diverges from my own connection to the Gouldmans at some time prior to 1730. DNA indicates a kindred Gouldman and Goulden (Golden) relationship between the approximate years of 1710-1730. [3]One theory of several theories is that our Goldens descend from the third son of Edward Gouldman, an unnamed son born in early 1710. this son may not be Edward's actual son. His third son may … Continue reading [4]Lower Norfolk County existed from 1637 until 1691. It subdivided into Norfolk and Princess Anne counties, with Princess Anne become Virginia Beach in the 1960s …  … Continue reading [5]Bill Golden has done extensive comparisons of DNA matches associated with the Gouldman family. Only one known male Gouldman has taken a yDNA test. Will be discussed in a section of the Gouldman … Continue reading
The Gouldman Family
~~~ United Kingdom (UK) Gouldmans
~~~ Thomas Gouldman, c1640-1684
~~~~~~ Children of Thomas Gouldman: Edward Gouldman, Francis Gouldman, Robert Gouldman, Thomas Gouldman 
~~~ Gouldman Orphans and Orphaned Lines
~~~ Barbara Goulden, William Goulden, Raines and Rainey
~~~ Gouldman and kindred Goldman Military Service
Prior Gouldman Genealogies
The Publications of the Harleian Society presents a brief English genealogy with two generations of Gouldmans in a chart from the late 15th century. No actual genealogic info is provided other than names and birth and death dates. This is an Aldriche (Allred) family history and shows Gouldman intermarriage into the Aldriche family. Certainly Aldriche/Allred DNA flows within Virginia Gouldmans. [6]The Publications of the Harleian Society, by Harleian Society, published 1869, available for download at https://archive.org/details/publicationsofha32harluoft/page/2/mode/2up?q=gouldman Per my own research, English Gouldmans became extinct after the 1861 English census.  None listed in 1871 census except for recent immigrant Eastern European Jewish Goldmans that adopted the Gouldman name. View my English Gouldman notes here.
Henry Ruffin Gouldman's Forefathers is a 12 page single family branch lineage for Virginia's Henry Ruffin Gouldman, 1832-1900, of Fredericksburg. Have only heard of this genealogy, have not seen a copy. [7]This genealogy brought to my attention by Diane Smith, who may have a copy. Henry Ruffin Gouldman is a former mayor and city councilman for Fredericksburg. Bill Golden sez: am a regular at The Virginia Room at The Fredericksburg Library. Have not seen this in their collection.
The Gouldman Papers,  King George Historical Society. A 29 page compilation of genealogy notes for families in the Old Rappahanock County area. Genealogy accompanied by loose papers associated with the Francis Gouldman family of Colonial Beach and the Gouldman-Rollins family bible with its handwritten genealogy of family members.  … This 29 page genealogy may be work done by Helen Kay Yates. She is mentioned within the 29 pages twice as having done a genealogy. There is no cover page to the genealogy and it is unclear whether the two references are to Helen being the author or the author of a different genealogy which is the inference >> See Thomas Gouldman of Essex County, Va. and some of his descendants, compiled by Helen Kay Yates, 1972.
Thomas Gouldman of Essex County, Va. and some of his descendants, compiled by Helen Kay Yates, 1972. Have not yet viewed this genealogy. Other than individual copies which exist and reside on someone's bookshelf somewhere, there are two copies in libraries beyond my driving distance: The Library of Virginia, Richmond, and the DAR Library at Mechanicsville, Virginia both list Helen Kay Yates' genealogy as being in their collection as of May 2023.
Winston of Virginia, and allied families, published 1927, by Clayton Torrence, 1884-1953, is perhaps the most authoritative research on the early Gouldman family of Virginia. I have a copy in PDF form and this book is available on Archive.org [8]https://archive.org/details/winstonofvirgini00torr This is a substantial book of some 477 pages and is important for its historical and contextual explanation of the relationship between early Virginia families, with special focus on: Waters, Bickerton, Todd, Bernard, Robinson, Beverley, Waring, Pendleton, Taylor, Madison, Gregory, West, Claiborne, Bassett, Cary, Burwell, Bacon, Littlepage, Quarles and Lovelace families.
Not an official title: Descendants of the Gouldman Children orphaned in Alabama. There is supposedly a Gouldman genealogy written by a Texas Gouldman descendant of the Gouldman-Parker children that became orphans in the 1850s in Madison and Perry counties, Alabama. These Gouldmans would continue the Gouldman name across the southwestern South, with many today in Mississippi and Texas. The author of this work may still be living (would be in his late 80s). I have only heard of this genealogy. Am in contact with Texas Gouldmans — none claim to have a copy. See 1842, Gouldman Orphans.
Gouldman 1666
Four rivers defined early Gouldman life and history in Virginia, with 1666 being the earliest documentary evidence for the Thomas Gouldman family being in Virginia. Those rivers are the James, York, Rappahannock and Potomac.
As of 2023, almost all living Virginia Gouldmans live within 25 miles of the four rivers.
There is some reason to believe that the Gouldman family arrived in 1642 and lived in what became Accomack County, Virginia — the first Gouldman being Francis Gouldman, and that his brother Thomas Gouldman arrived at some later date. [9]There is evidence of two brothers named Francis and Thomas being born in Kent County, England at the right time to be associated with Virginia Gouldmans. SOURCE INFO GOES HERE. 
There are no historical Gouldman colors or family crests.
A single family herald and crest was awarded to the Goldman family of Sandford, England, in the southwest of England. All historical records for Gouldmans before 1666 are for Gouldmans living in the eastern coastal regional of England. [10]Burke's General Armory, research into the official registration of all heraldry in England, Ireland, Scotland and Wales. See https://archive.org/details/generalarmoryofe00burk for more info and … Continue reading
For purposes of having an identifiable logo or semi-heraldry symbol for the Virginia Gouldman family I chose to focus on the four rivers that defined early Gouldman life in Virginia after 1666.  [11]As for the four rivers designs, I openly welcome other designs from descendant family members. Will use the four rivers designto headline the Gouldman family history notes that I am compiling until a … Continue reading

++++++++++
©2023 William Golden, Norfolk1956@gmail.com // Material may be shared without requesting permission and with appropriate attribution: A General History of the Thomas Gouldman Family of Old Rappahannock County, Virginia, compiled by William Golden
References

↑

1
A Probable History of the Golden Family of Newberry, South Carolina Since 1761, by Bill Golden.

↑

2
Virginia Gouldman family history becomes discombobulated after the death of Winifred Claiborne (1714-after 1770), married to Francis Gouldman (c1695-1763). German Gouldmans, originally Goldmans, appear in Virginia after 1715. It can be difficult to tell the two Gouldman lines apart due to poor, nearly non-existant recordkeeping, and the two Gouldman lines living among one another.

↑

3
One theory of several theories is that our Goldens descend from the third son of Edward Gouldman, an unnamed son born in early 1710. this son may not be Edward's actual son. His third son may be an NPE with a member of the Keeling family — and the DNA that binds us together as family would come from Edward's wife Martha Tomlin. … HOWEVER, the NPE theory is challenged by significant DNA connections to Elizabeth Gouldman (1698-1748) and her descendants. Elizabeth Gouldman was daughter of Thomas Gouldman, Jr (c1665-1698), and niece to Edward Gouldman, meaning that our Goldens carry actual Gouldman DNA for whatever reason. Origins of our Golden family remains just a theory at this point (2023). Regardless, our Goldens are yDNA matches with a yDNA R1b Keeling line that is different than the yDNA J-M267 Keelings of Princess Anne County, Virginia, formerly known as Lower Norfolk County. 

↑

4
Lower Norfolk County existed from 1637 until 1691. It subdivided into Norfolk and Princess Anne counties, with Princess Anne become Virginia Beach in the 1960s … 

https://en.wikipedia.org/wiki/Lower_Norfolk_County,_Virginia

↑

5
Bill Golden has done extensive comparisons of DNA matches associated with the Gouldman family. Only one known male Gouldman has taken a yDNA test. Will be discussed in a section of the Gouldman Family History.

↑

6
The Publications of the Harleian Society, by Harleian Society, published 1869, available for download at

https://archive.org/details/publicationsofha32harluoft/page/2/mode/2up?q=gouldman

↑

7
This genealogy brought to my attention by Diane Smith, who may have a copy.

↑

8

https://archive.org/details/winstonofvirgini00torr

↑

9
There is evidence of two brothers named Francis and Thomas being born in Kent County, England at the right time to be associated with Virginia Gouldmans. SOURCE INFO GOES HERE. 

↑

10
Burke's General Armory, research into the official registration of all heraldry in England, Ireland, Scotland and Wales. See

https://archive.org/details/generalarmoryofe00burk

for more info and a downloadable PDF book of awarded heraldry. The general armory of England, Scotland, Ireland, and Wales; comprising a registry of armorial bearings from the earliest to the present time, by Burke, Bernard, Sir, 1814-1892

↑

11
As for the four rivers designs, I openly welcome other designs from descendant family members. Will use the four rivers designto headline the Gouldman family history notes that I am compiling until a better design comes along. Bill Golden, Norfolk1956@gmail.com