Golding / Golden / Goulding et al Family History on Facebook
---
John Milton Gouldin "Milton"
Born: 1838 or 1839 in Caroline County, Virginia.
— There was another 'J. M. Gouldin' born in Virginia in 1838. His fullname and place of birth is unknown. He is listed in the 1910 census living at Dover, Lafayette, Missouri.
Parents: Unconfirmed; may have been orphaned just after age 10.
DNA: Male Gouldins are yDNA tested. They are a match with the Goldings that settled in Gloucester, Virginia about 1649. There is virtually no genealogy of the Gouldins before early 1800s, although their kindred Golding line in Virginia is well documented. It would appear that the Gouldins may descend from the Richard Griffin Golding line of King George County which would become Gouldins in the Westmoreland County area.

Hints about Parents: 
William Gouldin and Ann Eliza Miller married 12 Mar 1838 at Caroline, Virginia. They are listed on John Milton's 1876 marriage certificate as his parents. Other than these datapoints, nothing is known about either. They appear in no census or other records associated with John Milton Gouldin.
1850 Census: 'Milton Gouldin' age 12 is living with Mollie Gouldin, age 55 (c1795), and Jane Minor, age 16 (c1834). Have not been able to identify which Gouldin that Mollie may have married or her maiden name.
1860 Census: 'John M Gouldin' living with Robert S. Broaddus  and Laetitia E Broaddus, nee Miller. John's occupation is listed as student. He was attending nearby Virginia Military Institute (VMI) at the time.
— Letitia E. Miller (1820–1875) is sister to Clemenza Miller (1814-1840) who married to John Burke Todd. 'Jno B. Todd' was the security guarantor for the marriage of William Gouldin and Ann Eliza Miller in 1838.
— There is no Ann Eliza or Eliza Ann or any similar name in the Miller family of John Prince Miller (1789–1838) and Susan Pearson Alexander (1805–1835), parents to Letitia and Clemenza.
—– There is an Ann Elizabeth Miller (born Mar or May 1800 in Caroline, VA), daughter to William Miller (1767–1836) and Catherine K. Chevis (1777–1836), who are parents of John Prince Miller and grandparents of Clemenza and Letitia Miller.
——— Numerous Duncan family genealogies claim that Ann Elizabeth married William Rawley Duncan (1796-1874) of Nelson County, Kentucky in 1822. There is no evidence that Duncan ever left Kentucky to find a Virginia bride or that Ann Elizabeth found her way to Kentucky. Nelson KY and Caroline VA are almost 450 miles apart so a chance meeting is not likely. It is more likely that Ann Elizabeth Miller born in 1800 and of Caroline, Virginia married William Gouldin.
1870 Census: Living in the home of Samuel W. Jordan (36) and Eveline Jordan (31) of Boone, West Virginia. Both Samuel and Eveline were born in Virginia per 1870 census, but both born in Bedford, Pennsylvania per 1860 census. Perhaps the census taker meant Bedford, Virginia. Others living in the same household (Watts family) were listed as born in Pennsylvania.
Grandparents: There was an earlier John Milton Gouldin, born about 1765 (died c1816), at Caroline County, and married to Elizabeth Wright, also believed to have been born about 1765. Little is known about either. A single genealogy lists the parents for both, but I cannot confirm the accuracy of parentage:
Thomas N. Gouldin, b1736–?, and Frances Jones, 1730–1790
William Wright, b1747–?, and Catherine Garrett, 1748–?
WAR and MARRIAGE
At VMI, John Milton studied medicine, and would become and serve as a doctor until his death. When the Civil War broke out, he raised a company of troops in 1861 and was 'elected' a captain in the 'Sparta Grays' … Sparta, Bowling Green being his home in Caroline County.
The Sparta Grays were Company H of the 30th Virginia Infantry Regiment. John Milton Gouldin would finish the war as a Lieutenant Colonel.
NOTE / FACTOID: Active from the mid-1840s onward was the 'Sparta Clay Club' in Sparta, Bowling Green, Caroline County, Virginia. Gouldins, Wrights and Broaddus and many other family members were very active in this political debate club and supporters of Henry Clay for public office. See end of this article for names. Numerous members of the Sparta Clay Club, or their sons, would serve in the Sparta Grays, Company H, 30th Virginia Infantry.
Wounded several times, to include at Cold Harbor, 1864, LTC Gouldin was at Appomattox Courthouse with Lee on the day of surrender. A handreceipt shows that he was allowed to return home with two horses, some blankets and clothes.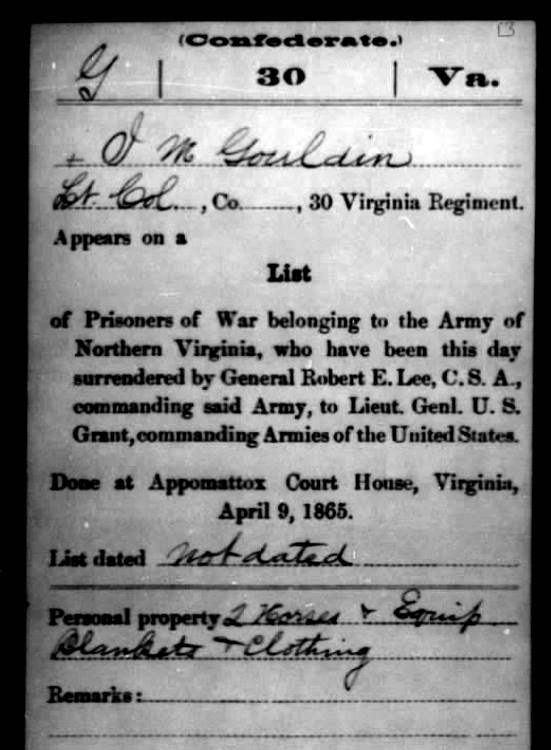 Marriage came in 1876 to Susan Jones "Sue" Wright (1843–1885), also of Caroline County, Virginia. Her parents were:
John Jones Wright Dr. MD, 1819–1876
and
Elizabeth Jones Noel (Francine Eliza), 1817–1896
It appears that John Milton lived both in Kanawha County, WV and maintained his home in Caroline County. He passed away in 1878 while in West Virginia. His body was returned home for burial and his probate was handled in Caroline County.
There was one child born to the short marriage: John Milton Gouldin, Jr., born 1878.
John Milton Gouldin Jr. (1878–1956) was born at "Springfield", the family farm near Rexburg, Essex County, Virginia (near the intersection of Fernlea Road and Mt. Landing Road west of Rexburg) and would become a doctor of great note in the region, very active in both government and civil affairs. He would pass away 10 September 1956. There is much more to this story but will save for another day.
++++++++++++++++
Sparta Clay Club
Discovering more about John Milton Gouldin's family line is probably possible by looking closer at intermarriages and activities of families local to Sparta, Bowling Green, Caroline County, Virginia.
From what sounds like a family reunion of families intermarried with Caroline Gouldins going both backward and forward for several generations from 1844, an excerpt from The Richmond Whig Friday, Mar 15, 1844, of Richmond, VA Vol: 24 Issue: 22 Page: 1:
"The following gentlemen were appointed by the President (of the Clay Club) to constitute the Committee of Vigilance: Andrew Broaddus Jr., Jno D Butler, Reuben B Richerson (Richardson), Nathaniel Motley, Willis Pitts, James Wright, Woodford Garnett, Mark Boulware, Philip C Samuel, Rob't S Broaddus, Thomas Robinson, Silas Conduit, Mor R Broaddus, James J Broaddus, Benj S Anderson, Leroy H Kemp, Edmund Sale, William H Broaddus, William W Tennant, Rob't S Pitts, Thos B Sale, Rob't R Sale, Moore F Sale, Henry B Gouldman, Robt Sale Sr., Thomas Motley, Henry C Smoot, Jos A Broaddus, James T Gouldin."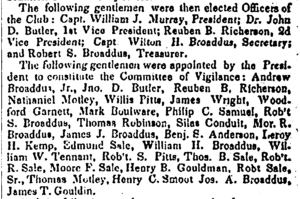 ---
You are welcome to add to or to correct this story by contacting: Bill Golden, Norfolk1956@gmail.com
BTW – I look forward to sharing your stories, photos and in-search-of quests. Contact me at the email address above.