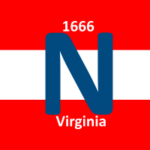 Norfleet
There are numerous threads from these families interwoven via DNA and genealogy into my own family.
Some notes … not in any particular order other than approximate time sequence.
A Patience Norfleet married a John Eley about 1728. Numerous, most genealogies list Patience Norfleet's parents as:   John Joseph Norfleet LWT, 1699–after 1727, and Elizabeth Riddick, 1710–1781.  These parents are not likely.   ++ Most genealogies say Patience Norfleet was born in 1710, some say 1720.  Birth in 1720 is not possible as she married in 1728 … and if
Read More »
Clara Anne Norfleet Born April 10, 1933 – Hickory, Chesapeake, Norfolk, Virginia or Elizabeth City, North Carolina, Died April 12, 1997 – Woodbridge, Prince William County, Virginia Mother: Jacqueline Virginia Norfleet, 1912–1973 … formally adopted by grandparents Alvah Edison Norfleet Sr, 1888–1959, and Nannie Leigh Hines, 1889–1963, as a baby. Grandparents are listed as parents on birth certificate. Relationship: my mom and
Read More »
Got info? Bill Golden Norfolk1956@gmail.com
GoldenGenealogy.com is moderated by Bill Golden — in search of his own family.
To find his, he collects and shares what he finds. His Pokemon strategy is to collect them all while finding his.
Bill Golden Norfolk1956@gmail.com