Mona Jane (Monnie) Golden, 1872–1899
Descendant of William Golding c1704 VA – 1782 SC and Elizabeth Foster c1704 VA – 1775 SC line.
Mona Jane ( Monnie) Golden, 1872–1899
BIRTH 1872 • Texas, USA
DEATH 1899 • Arkansas City, Arkansas, USA
Marriage
Enoch Jackson Hooper, 1865–1945 (died of heart attack)
29 Jan 1888 • Lafayette County, Arkansas, USA
Two sons:
Jefferson Enoch Hooper, 1888–1964 (died of heart attack)
— Married Emma Darlene Hopkins, 1897–1965
—– Children:
—– Infant Hooper, 1918–1918
—– Jefferson Enoch (JE) Hooper Jr., 1919–1996
—– Geraldine Elaine Hooper, 1921–1922
—– Milton Leroy Hooper Sr., 1923–1999
Milton Lee Hooper, 1893–1910
— Was working on a farm in 1910 census at Sulphur, Miller, Arkansas. Single. Disappeared thereafter.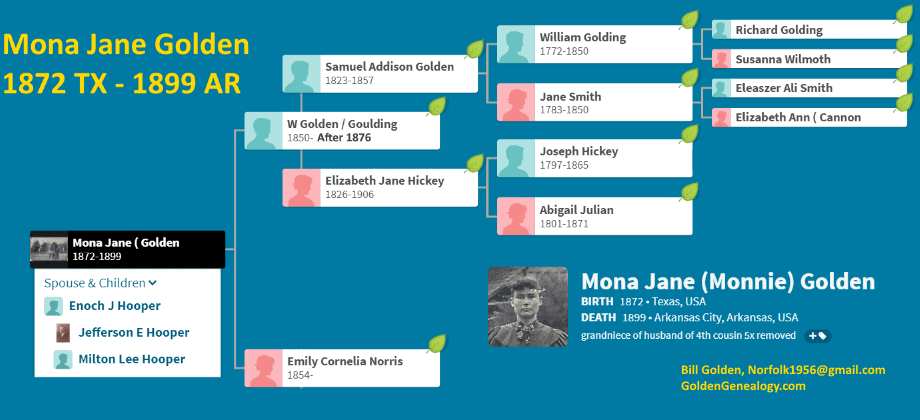 Got info? Bill Golden Norfolk1956@gmail.com
Comments, Questions and Thoughts
You can reach Bill Golden at Norfolk1956@gmail.com
GoldenGenealogy.com is moderated by Bill Golden — in search of his own family.
To find his, he collects and shares what he finds. His Pokemon strategy is to collect them all while finding his.
Bill Golden Norfolk1956@gmail.com