Thomas Golding, c1869 England to 1939 Kankakee, Illinois, USA
Immigrated as a baby from
England to Kankakee, Illinois c1871-1873 … parents of Thomas Golding are unknown BUT another English Golding family also came to Kankakee from England at the same time. Children of both families are of similar age.
In two different  censuses, Thomas gave 1871 and 1873 as the year he came over from England … and gave as his birth year 1869 and 1870. Genealogies list both years but agree on November 12th as his birthday.
We may not know who Thomas Golding's parents are BUT his uncle and aunt may be George Golding 1838–1917 and Sarah A. Venables 1840–1929 … they are at the right time and right place to be his parents. There is no Thomas listed among their children.
George and Sarah Venable Golding came from England and settled in Kankakee, Illinois. Children of same birth years, but no Thomas listed among them. They have a child born during Thomas' birth years 1869/70. It may be that a larger Golding family came to the USA together — and these are Thomas' aunt and uncle.
I do not know of immigration or naturalization records for any of the above Goldings — but neither have I searched too hard for them. Not present within Ancestry search results.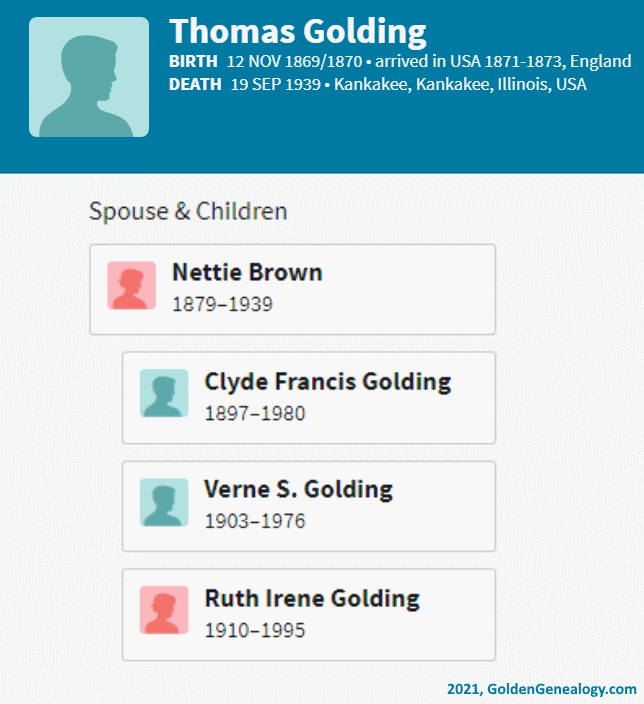 There are no hints as to the parentage of Thomas Golding. No known immigration record — although one probably exists since he arrived from England from 1871-1873.
Married to Nettie Brown, 1879-1939, in 1896 at Kankakee, Illinois, where Nettie was born.
Children:
Clyde Francis Golding, 1897–1980
Verne S. Golding, 1903–1976
Ruth Irene Golding, 1910–1995
Genealogies for George Golding, 1838-1917, do indicate parents: Thomas Golding and Mary Ladds.
Married 1863 in England to Sarah A. Venables, 1840-1929, also of English birth at Devon. 
Children:
James Henry Golding, 1864–
John Golding, 1866–
Mary Kate Golding, 1868–
Edward Golding, 1871–1940
George Robert Golding, 1878–
Asa Sylvester Golding, 1882–
Fanny Golding, 1885–1900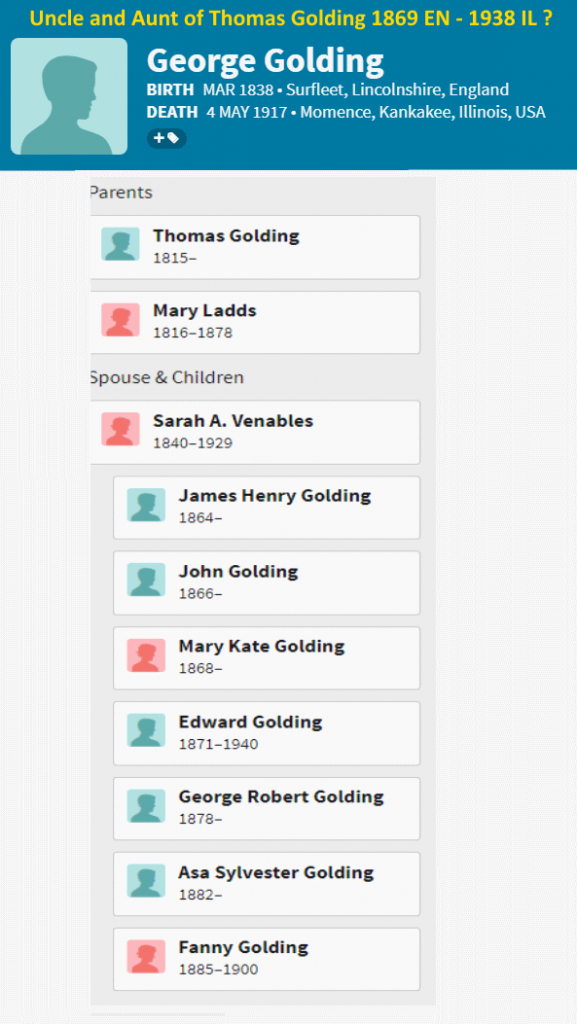 Got info? Bill Golden Norfolk1956@gmail.com
Comments, Questions and Thoughts
You can reach Bill Golden at Norfolk1956@gmail.com
GoldenGenealogy.com is moderated by Bill Golden — in search of his own family.
To find his, he collects and shares what he finds. His Pokemon strategy is to collect them all while finding his.
Bill Golden Norfolk1956@gmail.com