Who are the parents of Robert Gouldman, 1803-1838?
Robert Gouldman and Nancy Ann Parker married about 1820, probably in King and Queen County, Virginia, near to both of their ancestral homes since the late 1600s.
 
Nancy Ann Parker's father is named 'Gouldman Parker' … the two families had obviously been close for several generations prior to her father's birth in 1775.
 
The newly wed Gouldmans have five (5) children born between 1821-1838: Francis, Joseph, William, Charlotte and Martha Gouldman.
 
Nov 1838: Robert Goldman dies. 1840 census: Gouldman family (less father Robert) still living in King and Queen County.
 
1841: Nancy Parker Gouldman, accompanied by her brother Samuel Parker, moves her family to Limestone County, Alabama just over the Madison County line. The move did not go well for Nancy and she passes by 1842. Her children are still minors and it appears that the Gouldmans had some assets. Uncle Samuel Parker legally becomes guardian for all five (5) Gouldman children until they reach adulthood or marry.
? Who were the parents of Robert Gouldman, 1803-1838?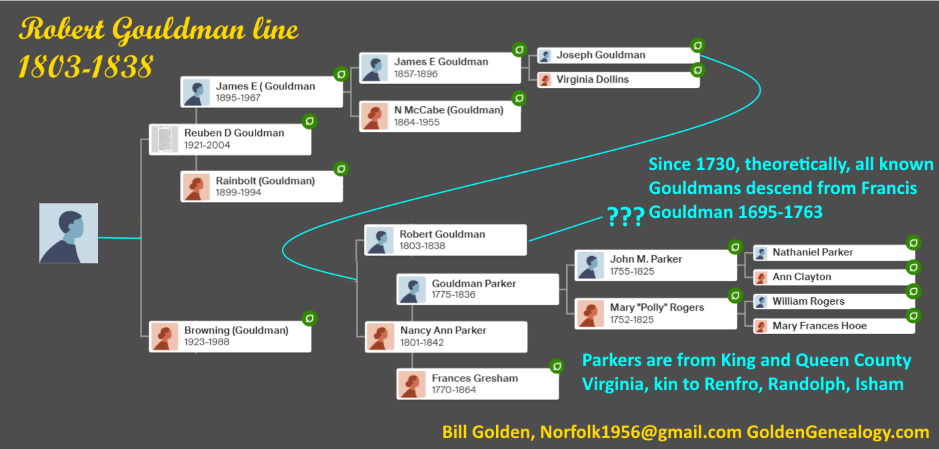 Got info? Bill Golden Norfolk1956@gmail.com
Comments, Questions and Thoughts
You can reach Bill Golden at Norfolk1956@gmail.com
GoldenGenealogy.com is moderated by Bill Golden — in search of his own family.
To find his, he collects and shares what he finds. His Pokemon strategy is to collect them all while finding his.
Bill Golden Norfolk1956@gmail.com