yDNA testing says Goldens from MANY Places
Goldens come from many places. We now have yDNA test results for almost 250 Goldens (Guldin, Golding, Goulden, etc) to compare against.
? Thinking about a DNA test? Am always glad to help you pick the right test depending upon what question you are trying to answer. Bill Golden Norfolk1956@gmail.com
>>> All test results in the chart below are from FamilyTreeDNA yDNA tests, the only service currently capable of producing STR and SNP values to compare male or female relationships.
—– Other services are capable of telling you your haplotype but do not do the analysis and provide the technical data for confirming relationships. That said, I like many different DNA tests for different purposes.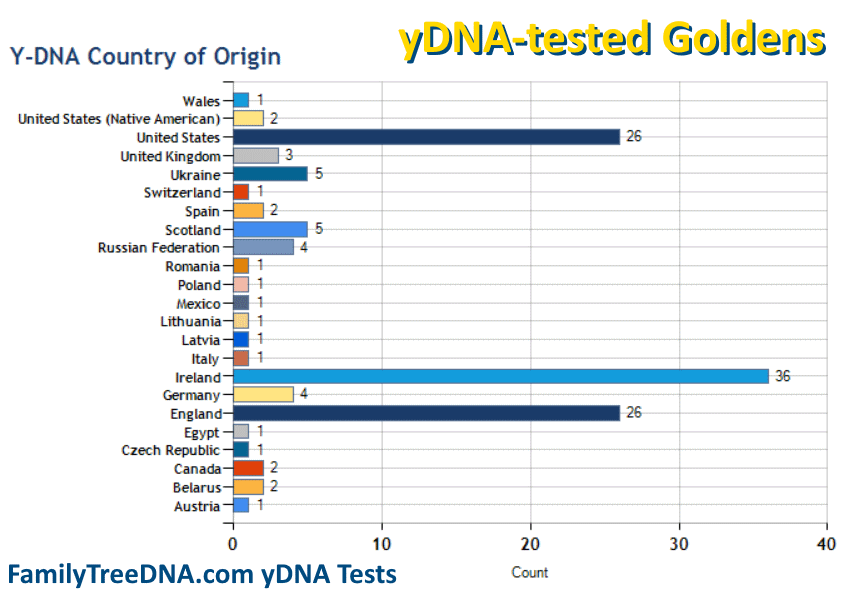 Got info? Bill Golden Norfolk1956@gmail.com
Comments, Questions and Thoughts
You can reach Bill Golden at Norfolk1956@gmail.com
GoldenGenealogy.com is moderated by Bill Golden — in search of his own family.
To find his, he collects and shares what he finds. His Pokemon strategy is to collect them all while finding his.
Bill Golden Norfolk1956@gmail.com