Eleanor Golden Warren, c1745-1809/11, Clouds Creek, Saluda, SC
NEEDS REVIEW and revising … a new date of death is claimed: 25 OCT 1811 • Clouds Creek, Edgefield, SC (Now, Saluda, SC) — see this profile for what is considered the most current and accurate information.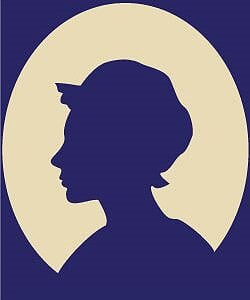 South Carolina – Newberry/Saluda/Edgefield – c1745-1809 or 1811
Which Golden family does Eleanor Golden belong to? Could there be two Eleanor "Nellie" Goldens in the Newberry and Saluda area between 1785-1810? That seems unlikely with such a unique name, especially since both would have lived within just miles of the other at the same time.
Several Ancestry.com family genealogies for William Warren and his FindaGrave memorial page claim that he was married to Eleanor Golden (b c1745–d1809) and indicates that Eleanor Golden Warren passed away in 25 October 1809 while living on Clouds Creek. 
The claim is also made that William Warren married Eleanor Golden about 1762 in Amherst, Virginia, and that they would divorce about 1798. William Warren supposedly remarried to a Helena LNU by 1800. The only known source for this information is the FindaGrave memorial page.
Questions and missing source material:
~~~ Missing source references does not mean something did not happen. Since the various online genealogies are inconsistent and contradictory then having some source reference is essential to making sense of there being two Eleanor Nellie Goldens.
Source for a 1762 marriage in Amherst, Virginia between William Warren and an Eleanor or an Ellender or a Nellie/Nelly Golden; and
Source for a c1798 divorce between William Warren and Eleanor Golden; and
Source for any association between William Warren and Eleanor Golden prior to his death (1802 Charles William Warren); there was an Eleanor Golden involved in his probate. However, Eleanor is referred to as 'Golden' not 'Warren' … and there appears to not have been any involvement of a Helena Warren in the probate; and
Source for Eleanor Golden's death on 25 October 1809; and
Source for the existence of Eleanor's alleged father Anthony R. Golden, c1710-1760, as claimed by some Ancestry genealogies. There is no evidence of his existence.
Golden Family of Beaverdam Creek, Newberry
Eleanor Ellender Golden (maiden name unknown, died after 1811) and  William Golden (Goulden) lived just off Clouds Creek, with Beaverdam Creek on one side of their property. This area is in modern day Newberry County (Edgefield before 1895) near to the Saluda River and on the west side of Newberry.
Eleanor Golden Warren of Clouds Creek
?? Which Golden family does Eleanor Golden come from? Per unsourced online genealogies:
BIRTH ABT. 1745 • Edgefield, Edgefield County, SC
DEATH 25 OCT 1809 • Clouds Creek, Edgefield County (Saluda since 1895), SC
Eleanor Golden and William Warren supposedly married about 1762 in Lexington Parish, Amherst, Virginia.
Depending upon the genealogy, claimed children of William Warren and Eleanor Golden:
Benjamin John Warren 1768–1853
Charles Warren, bef 1781-1802: left a last will and testament in 1802 naming Eleanor Warren as his mother and witnessed by Eleanor Golden. This is the only pre-1800 Edgefield region Warren that can prove parentage of any kind.
Eleanor Warren 1769–1855
John Warren, 1775-1837 … left a last will and testament
John Charles Warren, 1777-1860
Elizabeth Warren 1780–1841
Joseph Warren 1785–1837
Virginia Roots, circa 1720
Some family histories list the parents of William Warren as:
James Warren, 1720–1798 Edgefield County, SC
Elizabeth Lewis or Patton, c1721–aft 1790 Edgefield County, SC
Another set of proposed parents:
Rev. James "Clouds Creek Preacher" Warren II (1712–1776)
Sarah Christian (1716–1793)
 The Lewis name is of great interest to myself as my family are indeed related to the Lewises. These Lewises and Warrens came from the Caroline County, Virginia area (Spotsylvania, Amherst, Albemarle). However, the Patton name is also of interest and a relation — with General George Patton being a descendant.
Per a William Warren family history, Clouds Creek was full of Warren family members.
— At least one Warren married a Dillard! Always a good sign that someone is related to us. … William's brother Benjamin Warren 1759-1813 married Sarah Sally Dillard 1767-1809. 
Eleanor Warren and Eleanor Golden coexisted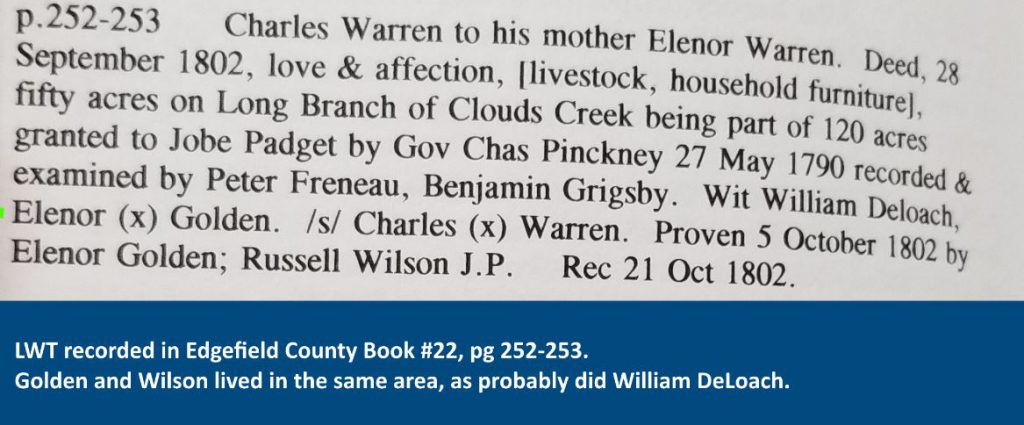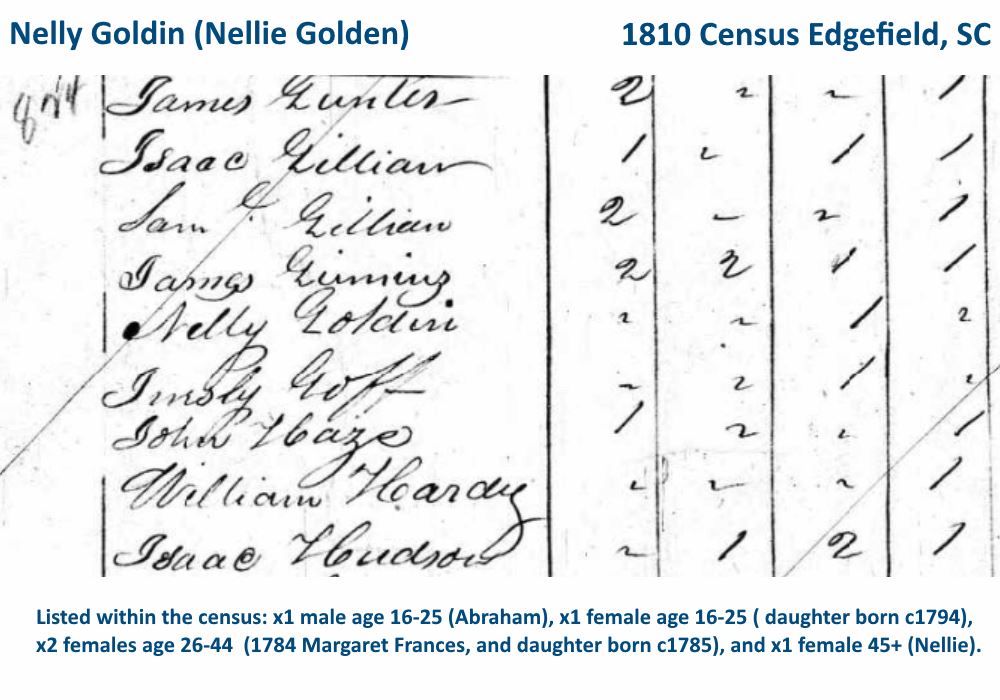 Child of Thomas Golden (Goulden)? DNA …
Is Eleanor Golden Warren a child of Thomas Golden (Goulden)?
Documented: Thomas Golden settled in Newberry by 1760 on Bush Creek/River at the latest … just down the way from Clouds Creek. He is believed to be the father of William Golden (b c1750, believed to be husband to Nellie) and a Thomas Golden Jr. (175x-aft 1790, settling on property adjacent to William and Nellie).
+++ A Nellie Golden appears in the 1810 census for Edgefield, South Carolina. Although not named in the census, several of the Golden sons that later claim her as their mother: their direct male-line descendants took yDNA tests. yDNA indicates that these males are Goldens related to William and Thomas Golden, their probable father and grandfather.
Thomas Golden's geographic origins are believed to be the same as the Warren family and many other families associated with William Golden's per DNA: from the Caroline County, Virginia area and adjacent counties.
Got info? Bill Golden Norfolk1956@gmail.com
Comments, Questions and Thoughts
You can reach Bill Golden at Norfolk1956@gmail.com
GoldenGenealogy.com is moderated by Bill Golden — in search of his own family.
To find his, he collects and shares what he finds. His Pokemon strategy is to collect them all while finding his.
Bill Golden Norfolk1956@gmail.com